In this week's episode at Roulette69.com, we are dedicating to lesser live casino developers. The market is swarming with famous releases from NetEnt, Evolution Gaming and Playtech. Therefore, many websites inadvertently neglect other providers.
That's why we're focusing on Vivo Gaming today. The San Jose-based live casino supplier boasts around a dozen enviable live dealer titles.
The one we'll be talking about today is their Mobile Live Dealer Roulette.
If you missed our last week's review of Evolution's Live Speed Roulette, make sure to read that first. We covered some serious tips and tricks in that article.
What Is Mobile Roulette from Vivo?
Under the motto, "Live at its best," Vivo Gaming has been successfully operating since 2010. To date, the developer set in motion a range of live dealer titles, including roulette.
Our top pick from the thrilling portfolio is hands-down Mobile Roulette.
The live dealer supplier teased information about this release in 2018. But it wasn't until 2020 that the game gained popularity with players.
This roulette variant is optimized for performance across all platforms, with a focus on smartphones and tablets. The San Jose provider recognized the potential of HTML5 technology very early and made use of it.
The game showed up on the market as an advanced, HTML5-based release with a user-friendly interface. Vivo refurbished the original roulette interface and made navigation at the premises easier than ever.
Our overall impression is that the gameplay is smooth and hassle-free. Vivo made it flow like a river, if we may say so ourselves. In comparison to dozens of variants that we've reviewed, we maintain that this one is arguably the finest.
How to Play Vivo Mobile Live Dealer Roulette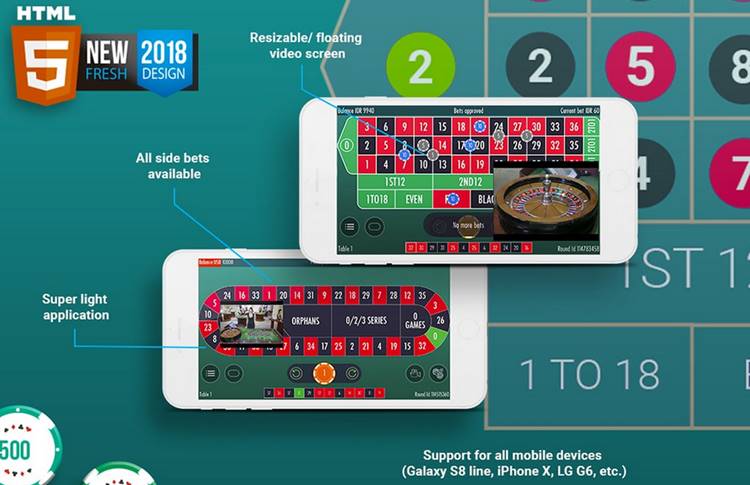 Regarding the technical part of things, Mobile Roulette is, in fact, traditional roulette in a portable form. But that's not something you'd like to overlook. In 2020, no casino goer should settle for a desktop-only casino game.
With that in mind, let's dig in.
The game starts with the table displayed before you. You can choose to zoom in to see the pockets better and place an accurate bet. Moreover, you can also zoom out to scan the layout and have a better look at the table.
To magnify, just make the swiping motion with your fingers that you would use in any app or picture.
Once you're one scrutinizing, you are free to set your bet(s). As this is a single-zero roulette, you won't have difficulty deciding as you would with two zeros. Later in the article, we'll recommend the best strategies for mobile roulette.
Having made your picks, you'll jump from the table to the view with the wheel. An attractive dealer will stand beside the playing configuration watching the ball do its thing. When the ball loses momentum, you'll know if your bet won.
The small black bar beneath the construction will indicate if you can place a new bet. Moreover, the same area tells you when the betting time is over.
The Best Strategies for Mobile Roulette
Depending on your budget and intentions, you'll need to pick one of the two possible betting options. Select your limit by clicking Standard or VIP.
The standard version has a betting range of 1 up to 10 coins. On the other hand, the luxurious VIP game allows wagers from 5,000 to 50,000 coins.
Here are the best strategies for mobile roulette:
Our Opinion
Mobile Roulette by Vivo Gaming is a must-have in 2020. Modern players like to play on the go, and this variation allows this commodity.
On top of that, the game is playable on the European layout, which means 37 pockets in total. The RNG-powered system guarantees fair and genuinely random outcomes. A charming croupier, typically female, will spin the wheel for you. What else could a punter ask for?
The team at Roulette69.com heartily recommend this live roulette game. VIVO facilitated gambling on the move with this brand new version. If you're looking to see innovation and development in the live casino realm, you'll look for VIVO.