Roulette69.com has been famous for its thorough analyses of Roulette strategies. Progressions, studies, comparisons, you name it – we have covered it.
Let's go through the list of Roulette systems that we have already talked about:
However, this month we have an exciting piece of news. A different kind of blog post is coming your way. We are growing every day and make sure to always bring you the freshest news from the realm of Roulette!
Omni-channel casino software provider Playtech has recently launched a brand new Live Roulette game. It is called Quantum Roulette and it is unlike anything else we have seen on the Roulette market.
Quantum Roulette Review
Quantum Roulette is the newest Roulette variant coming from the Isle of Man-based casino game manufacturer. Known for its other variations such as Prestige Roulette, Single Zero Roulette and Speed Roulette, Playtech delivers only the best content related with the Devil's Game.
Playtech's trademark augmented reality comes in the new Quantum Roulette as well.
The electrifying game takes place in a high-detail, meticulous casino studio which boasts an incredibly immersive atmosphere. The surrounding is embellished with thematic elements, geometric shapes and powerful thunderbolts. Furthermore, the ultra HD visuals cater for complete and utter engrossment in the game.
An expert, native-speaking dealer, who comments on the game and helps you place your bets, will be your host in this game. He or she will keep the ambience intact. There is also the sound presentation. It allows you to feel as if you were physically present in the studio. The score and sound effects follow the announcement of each win in the game. All of this is wrapped up with interactive studio elements, so the result is an engaging melange of optical charisma and advanced gameplay.
Get Energised!
In terms of the regulation, Quantum Roulette runs onSingle Zero Roulette rules. Nevertheless, it comes with a twist. The stupefying feature is the multiplier found on certain "Straight Up" positions in every round. There will be up to five multipliers from 50x to 500x!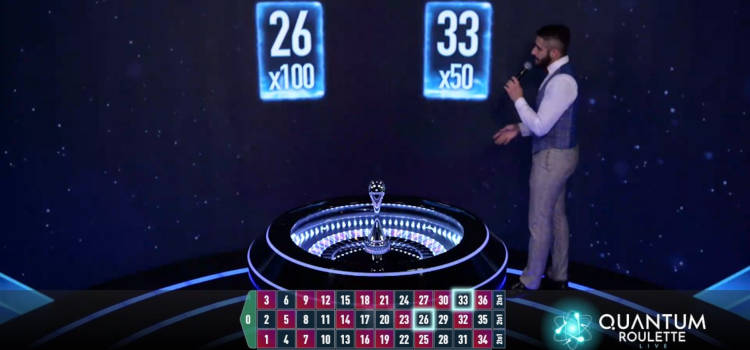 Typical of Playtech, the company includes even more excitement by adding an exclusive event – the Quantum Boost.
The fascinating functionality occurs randomly. What it does is increase the value of the multipliers. When it happens, it enhances some or all of the multipliers. Keeping you on your toes, the feature creates a bigger winning potential for you!
It is just the beginning of the fourth quarter in 2019 for Playtech, and the award-winning casino firm has already launched more games than in any year in its history. And we are talking about 20 years' worth of experience.
Before Quantum Roulette, Playtech was proud to unleash American Roulette, Hi-Lo Club, Spread-Bet Roulette, Dragon Jackpot Baccarat and Casino Stud Poker earlier in 2019. All of these games are available for play at all Playtech-powered online casinos.