Our team at Roulette69 has a mission.
We want you to play the best roulette game possible. That's why we do lots of roulette strategy reviews. As you know, we often talk about betting systems to help you minimize your losses.
Remember the Paroli tactic? That's what we're talking about.
But this time, we want you to see where you can apply all those roulette betting systems.
We undertook thorough research to find the best live roulette games this year.
Here are the most played roulette games in 2020:
Spin & Win Roulette – Playtech
Jackpot Roulette – Ezugi
Instant Roulette Live – Evolution Gaming
Auto Roulette – Pragmatic Play
Quantum Roulette – Playtech
Let's take a closer look at each of these live roulette variants.
Spin & Win Roulette – Playtech
In June 2020, Playtech released its freshest, most innovative and rewarding roulette variant ever. Its name is Spin & Win Roulette, and it's a player's dream.
Spin & Win is playable on the European table and wheel. That means 37 pockets, including the single zero (0). Therefore, the house edge stands at 2.70%. With such a big return to player (RTP) percentage, punters stand great chances to win this amazing game.
So, what's so special about it?
Well, Spin & Win lauds a plethora of multipliers. These are a reason good enough for you to join any Playtech live casino.
According to the manufacturer, "every straight-up position on the roulette layout is multiplied".
Here are the payouts for all bet types in Spin & Win:
Straight up Bet – pays anywhere between 17:1 and 99:1
Split – 17:1
Street – 11:1
Corner – 8:1
Top Line – 8:1
Six Line – 5:1
A great addition to this Devil's Game is the Lucky Dip button. Thanks to it, the RNG software will pick 5, 7 or 8 straight bets for you.
Also, you can use Playtech's Bet Creator to save your bets to favorites.
Jackpot Roulette – Ezugi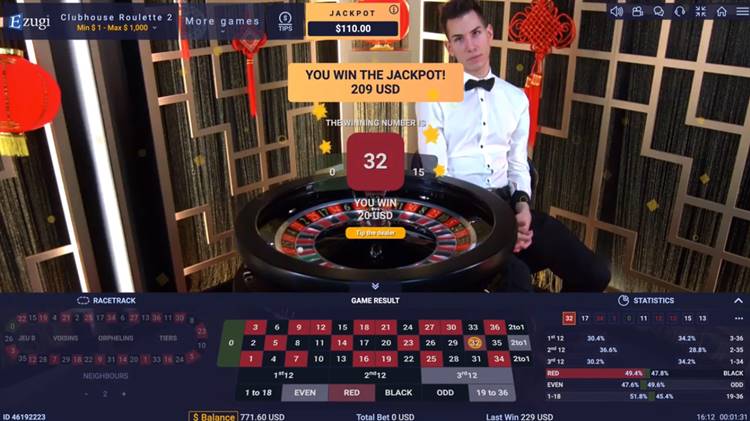 The spring of 2020 brought another exclusive release. This time around, it was Ezugi who shook up the roulette world.
Akin to the previous pick, Jackpot Roulette takes place on the European configuration. Thirty-six numbered pockets plus one reserved for the zero. Simple and straightforward.
Players have 15 seconds between each round to decide so the game is quite fast-paced.
The dealers are native speakers of English so you'll have no difficulty understanding them. As this is a live casino game, he or she will welcome you to the casino studio in real time.
Visuals and the studio decorations are impeccable – something that Ezugi always delivers. What's more, you can play Jackpot Roulette on the move, whenever you feel like it.
In Jackpot Roulette, you can choose whether you'd like to take it slowly or go full-speed for that jackpot. We wouldn't blame you – progressive games are always tempting.
However, if you start chasing the progressive jackpot prize, do so as you would a progressive slot. Go for the max bet but do not chase your losses and pull away if you're losing.
Instant Roulette Live – Evolution Gaming

Another incredible 2020 release was Evolution Gaming's Instant Roulette Live.
It came out in May this year and became an – instant – success.
What differentiates this variation from others on this list is that it is not your traditional live dealer game. Instead, this Evolution launch runs on RNG software.
As soon as you join the game online, you'll notice 12 wheels working their magic. There's no live croupier in sight, the wheels spin on their own.
When you place your bet, you'll be taken to the first available wheel. Does that mean you have to wait? Not at all!
Each wheel spins after 20 seconds but not simultaneously. In turn, you can join pretty much the second you wager. All wheels were manufactured by famous firm TCSJOHNHUXLEY.
The RTP in Instant Roulette totals 97.30%. This Evolution live dealer game is arguably the fastest one on the market. Even faster than the developer's Speed Roulette!
Now, in summer 2020, Instant Roulette is available in many a reputable live dealer casino. Thus you can log in now and start playing immediately. This game is faster than a bullet!
Auto Roulette – Pragmatic Play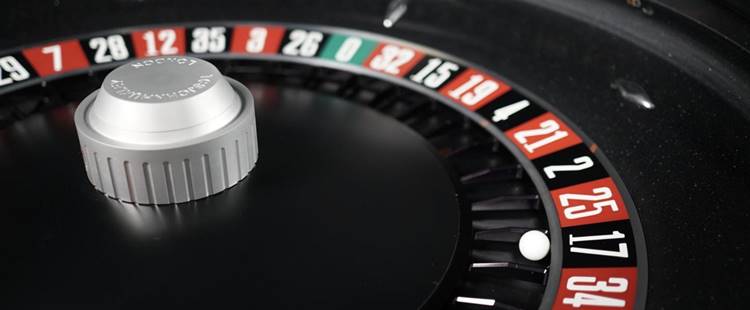 Next up, we have the honor of chatting to you about Pragmatic Play's unique release – Auto Roulette.
This game, which came out in May 2020, is arguably the provider's most diverse and adaptable live casino game.
Similar to Evolution's variant below, it comes without real dealers. The wheels are completely powered by the random number generator (RNG) which ensures genuine and fair outcome.
Furnished with the standard European wheel and table, this edition will work for both low-stake players and high-rollers.
If you want to lie low and play safely, we'd recommend 1:1 bets. Those would be red/black, even/odd and high/low.
Alternatively, you can place straight-up, split, street, corner or line bets, too. The payout increases with the decline of the numbers you bet on. Betting on a single number (straight-up) pays at 35:1.
You can read the full review of Auto Roulette from Pragmatic Play on this page.
Quantum Roulette – Playtech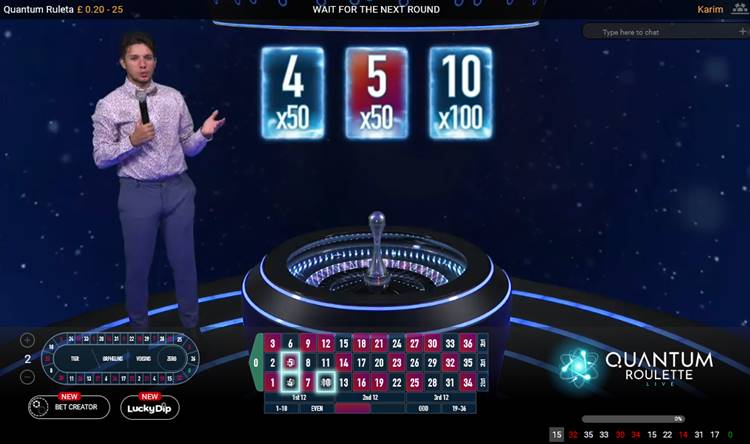 Finally, we wrap up with another Playtech achievement. The award-winning casino supplier indeed rolled out Quantum Roulette in 2019. However, based on the success it enjoys in 2020, we decided to include it here.
Players have revelled in the game so much that the provider created Quantum Blackjack, too.
As we've talked about Quantum Roulette before, we won't be taking long. Read the complete, detailed review right here on Roulette69.com.
We'll just point out the crucial facts about this live game.
Up to 5 multipliers with different values are selected in each round.
Its multipliers go from 50x to a whopping 500x.
The game features the original Quantum Leap functionality, which doubles or triples multipliers.
We cannot wait to see what the second half of 2020 will do for roulette. What do you think?
Drop your opinion in the comment section below.