Real Roulette with Matthew is the latest Microgaming roulette game launching on 11 March 2021.
After Sarati's breakthrough in late 2020, Microgaming hired another professional dealer – Michael – to deliver a memorable wheel-spinning experience.
What's So Special About It?
If you're wondering what is Real Roulette, let us tell you.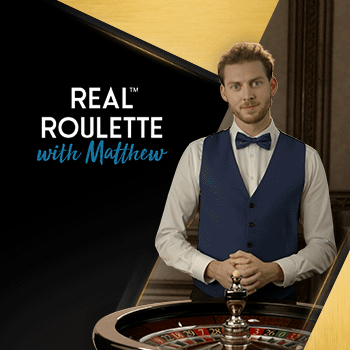 As far as the rules go, it is simple and straightforward. It is playable on a 36-slot European wheel with a 97.30% RTP and a 2.70% house edge.
It is a combination of live casinos and RNG tables with an added cinematic experience. While Matthew is a real person and a real croupier, he is presented to players in the form of short clips.
Matthew is the newest dealer in the proud Microgaming army. Employed by Real Dealer Studios, the croupier's virtual debut is exactly this title. However, as we've seen with Sarati, Microgaming looks to make it into a series. Therefore, we might get another casino title with Matthew in the near future.
Our dealer is friendly and talkative. Matthew is a native speaker with a British accent. From time to time, he will comment on your gameplay with "That was brilliant" or "We have a winner!"
As per usual, Microgaming roulette is played on a professionally manufacture Cammegh wheel. The player's menu features racetrack bets and allows you to select your favorite bets. Moreover, full stats are available at any point of the round.
Therefore, Real Roulette with Mathew is not a live casino game, but a virtual one. In that sense, it is similar to Auto Roulette from Pragmatic Play.
How to Play Real Roulette
The new Microgaming title is very easy to play. If you have played the European variant before, you'll know all the rules.
Here is what each round of the game looks like, more or less:
Matthew invites you to place your bet.
The coin range goes from $0.25 to $125.
Choose your strategy in advance.
The croupier closes bets and spins the wheel.
When the ball lands in a pocket, Matthew announces the winner.

Real Roulette with Matthew is suitable for beginners because it's essentially the most basic form of the game with stunning visuals. It is better than standard online roulette as it features an actual person and an intuitive interface and stats. Also, punters get to play at their own pace without the pressure of the live casino. However, high-rollers and seasoned gamblers are also welcome to play the game for the fun of it.

Let's take a look at where to play Real Roulette with Matthew once it launches.
Best Microgaming Casinos
On 11th March 2021, the global Microgaming family of casinos will welcome Real Roulette with Matthew. Here is where you'll be able to play this fantastic casino game:
Let us know what your favorite Microgaming casino is!
Verdict
Real Dealer Studios and Microgaming created something unique and special with Real Roulette with Matthew. Namely, the it is so simple that it can be hard to believe. Based on the well-known rules, it is a regular roulette wheel-table combo. Players place bets using the straightforward interface. Finally, they are congratulated by the charming dealer, which is always a nice touch. All in all, Real Roulette with Matthew is legit, 100% fair, and 100% enjoyable.
Check out the preview video below: